Cobra Replica
>
Cobra Replica Engine-Transmission-Cooling
>
Cobra Replica Engines and Transmissions Packages
Cobra Replica Engines and Transmissions Packages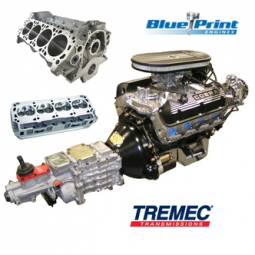 Blue Print Engines and Tremec Transmissions provide the power and dependability for your Cobra Replica. Blue Print engines feature a 30 month/50,000 mile warranty. Tremec Transmissions feature a 180 day warranty. We offer the engines in either a 347 stroker or a 408 stroker.
Blue Print Engines
Blocks:
Hand picked seasoned block.
Square and paralleldecked.
Align honed main bearing bore.
Cylinders honed on computer controlled machine to within .0002 straightness and roundness.
Rotating Assembly:
New cast steel crankshaft.
New rods w/150,000 psi bolts.
Hypereutectic pistons.
Hastings moly rings.
Rotating assembly balanced to within 2 grams.
Melling high volumn oil pump.
Hydraulic roller camshaft.
Cloyes double roller timing chain.
Camshaft degreed for maximum horsepower.
Cylinder Heads:
Aluminum 58cc.
Hardend retainers and springs.
1.94 swirl polished intake valves.
1.60 swirl polished exhaust valves.
Tremec Transmissions
TKO Transmission.
Quick Time steel bell housing.
Ram billet steel flywheel.
Ram clutch kit.
Clutch fork.
Timken / National pilot bearing.
ARP flywheel bolts.
Weighs only 99 lbs. dry.
Robust 3-rail internal shift mechanism offers firm, positive shifts.
Multiple gearing and overdrive options.
Up to 600 lb-ft of torque capacity.